We can use Customer Profiles to group customer accounts with similar credit worthiness, business volume, and payment cycles. For each profile class you can define information such as credit limits, payment terms, statement cycles, invoicing, and discount information. You can also define amount limits for your finance charges, dunning, and statements for each currency in which you do business.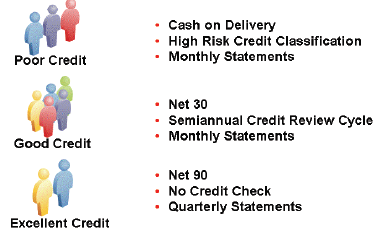 Navigation to create a profile classes AR -> customer -> Profile classes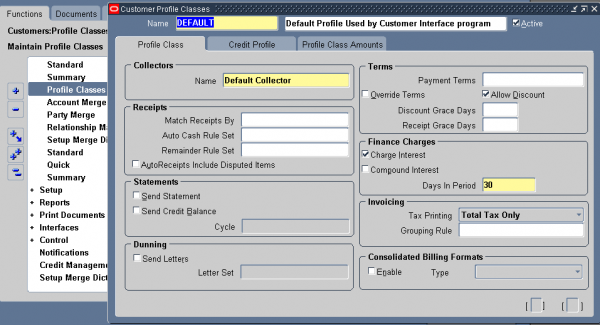 Every customer account must be assigned to a profile class. A profile class defines several default values for customer accounts with similar credit terms and invoicing requirements.  After an account has been created, the default value can be modified based on the specific characteristics of that customer account or account site.
Credit Check:  Oracle Order Management will check the customer's credit before creating a new order, if you select the
Credit Check box, and if the Payment Term and the Order Type associated with the order also require credit checking. Receivables does not check your customer's credit when you create transactions in Receivables.
If credit checking is active for your customer and the customer exceeds its credit limit, then all new orders for the customer are put on hold  in Order Management, and Order Management automatically initiates a credit review request.


If the credit analyst determines that a customer should be placed on credit hold, then Credit Management automatically updates the Credit Hold check box in the Customer Accounts window.
Attention: If you use Credit Management, then you should not update the Credit Hold check box in the Customer Accounts window.
After you place the credit hold, you cannot create new orders in Order Management, nor can you create invoices for this customer in Oracle Projects. However, you can still create new transactions for this customer in Receivables.
Profile classes are attached to the customer in profile: transaction tab of customer site and is also available in classification tab.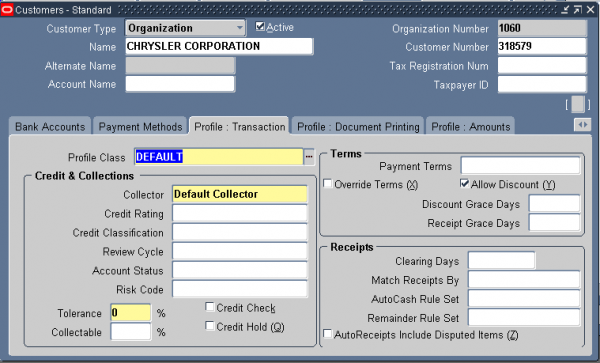 You can move a customer account from one profile class to another whenever it is deemed necessary. To change the profile class, find the account and then select the new profile class from the list of values under the profile transaction tab in the customer window.
You can also assign profile classes at the site level of the customer if there is a saved and active bill-to business purpose.
Updating a Customer Profile Class
You can modify an existing customer profile class in the Customer Profile Classes window. When you modify profile class information using this window, Receivables requires that you indicate whether and in what way your changes will affect other customers using this profile class.
To update profile class information for a specific customer, use the Customers window.
Oracle Receivables displays a pop–up window that lets you decide how to apply your changes. Choose one of the following options:
Do Not Update Existing Profiles: Choose this option if you do not want to update existing customer profiles with your new profile class values. When you choose this option, Oracle Receivables only assigns the new profile values to new customers to whom you assign this profile class.
Update All Profiles: Choose this option to update your new profile class values for all existing customers whom you previously assigned to this profile class. To preserve your customizations to a customer's individual profile, this option does not update every field on a customer's profile with values from the newly modified profile class; only the fields you changed for this profile class will affect your customer's profile. When you choose this option, Oracle Receivables automatically generates the Update Customer Profiles report so you can review your changes.
Update All uncustomized Profiles: Choose this option to update only customer profiles for which the corresponding options have the same original setting.